children's house
THE MONTESSORI CHILDREN'S HOUSE PROGRAM FOCUSES ON ACADEMIC MILESTONES, IN ADDITION TO DEVELOPING THE CHILD'S ABILITY TO CARE FOR THEMSELVES, OTHERS AND THEIR ENVIRONMENT.
THE CONTENT BELOW INCLUDES A SMALL SAMPLING OF OUR VAST OPPORTUNITIES PROVIDED TO THE CHILDREN IN EACH CHILDREN'S HOUSE CLASSROOM.
CHILDREN'S HOUSE offers options for a half-day or full-day schedule. The half-day option is Monday-Friday from 8:30 am to 11:30 am. You can choose to add the full-day program to your child's schedule, from 2 days up to 5 days per week. The full-day schedule is from 8:30 am to 3:30 pm. Full-day students may also participate in Before and After Care in the Enrichment Center. Learn more about Tuition Rates.
FRESH FOOD PREP
Preparing their own fresh squeezed orange juice is just one of many opportunities Montessori children have in preparing fresh snacks. This work introduces the child to carrying a tray (balance for a young child), completing work from start to finish. It also provides the opportunity to practice precision pouring for development of hand dexterity and muscle strength, increases independence, and creates interest in nutrition.
plant care
When a child helps to care for the plants in the room, they are coordinating their small and large motor movements by carefully trimming just the dead leaves, giving the healthy leaves a gentle mist with the mister, and walking ever so carefully from the sink to their plant with a watering can while trying not to spill. In caring for the beautiful plants that surround them, it helps them develop independence, feel connected to our classroom environment, and to know they their actions make a difference.
PET CARE
Montessori classroom pets bring out children's creativity and improve classroom socialization. Pets also promote a sense of responsibility, empathy and compassion for all living creatures.
CYLINDER BLOCKS
CYLINDER BLOCKS, one of the first sensorial materials presented to the child in Children's House. Working with this material helps them become conscious of size, dimension, and refines their grip in preparation for writing.
SOUND BOXES
The SOUND BOXES are one of a large variety of materials in the Sensorial Area of the Children's House. Two boxes hold a set of 6 cylinders that produce a different pitch and volume. Working with this material helps the a young child isolate and discriminate between similar sounds.
LANGUAGE / WRITING / CULTURE
Metal Insets
METAL INSETS not only provide an opportunity to create artistic designs, working with this material assists the child in developing important skills necessary for writing someday. A lightness of touch, pencil grip, keeping within a confined space, and moving left to right are just a few examples.
Cultural Experiences
Includes art, music, geography, and the beginnings of history, botany, and zoology. These areas of study help children orient themselves in the world around them. Art, music, movement, and a variety of cultural activities are an integral part of this joyful learning experience.
SANDPAPER LETTERS
Working with the SANDPAPER LETTERS helps the child become conscious of sounds in spoken language and to associate the sound with the symbols through visual, auditory, and kinesthetic senses.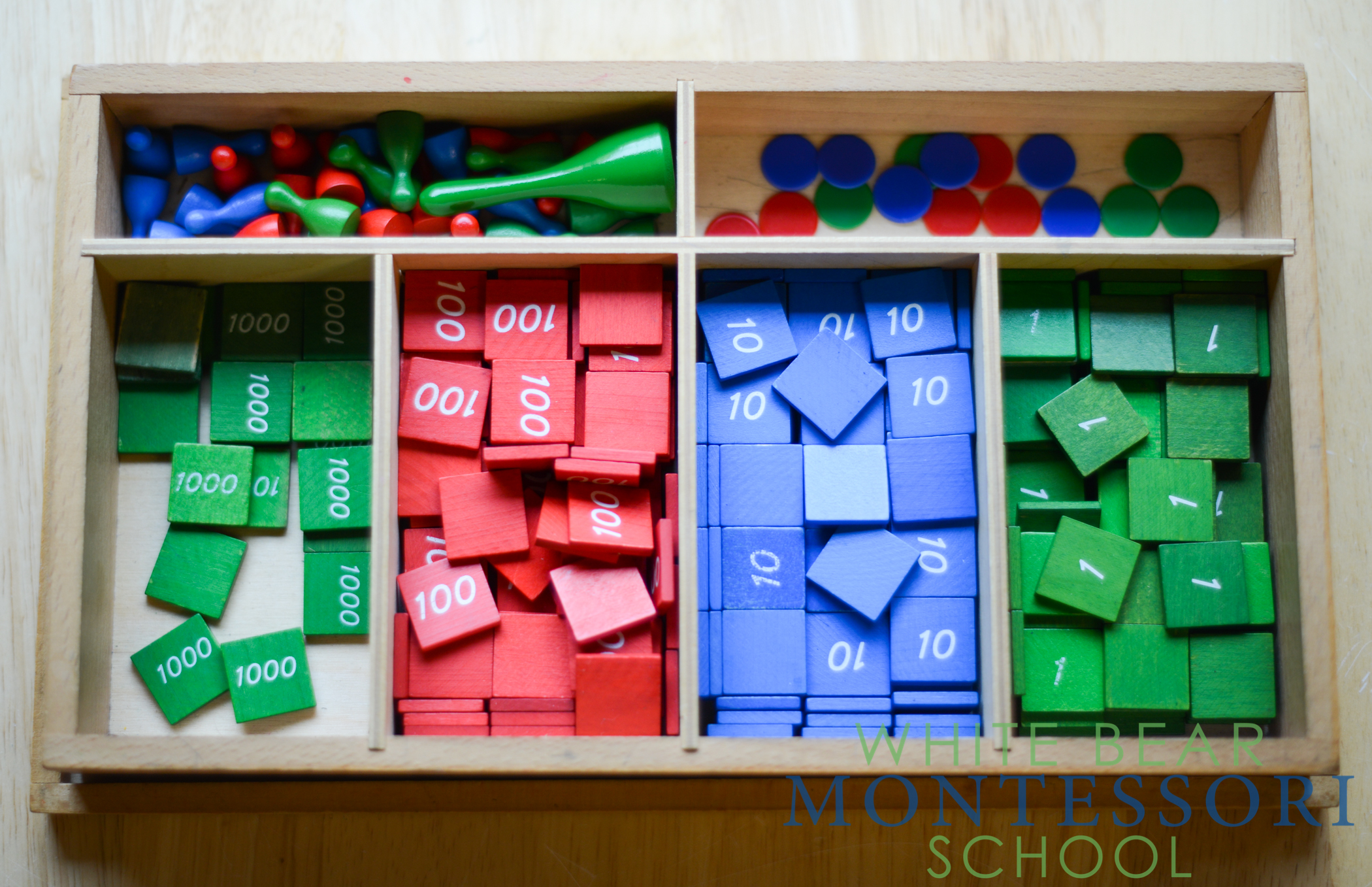 STAMP GAME
The STAMP GAME gives children a hands-on learning opportunity to practice their addition, subtraction, multiplication and division. It also helps them concentrate on the categorical values and identify these quantities are always from 1 to 9.
CONSTRUCTIVE TRIANGLES
CONSTRUCTIVE TRIANGLES help the child understand shape, size and colors. It helps him/her see how all plane geometric shapes are constructed of straight lines and are composed of triangles. This material work indirectly prepares the child for finding area and equivalence in Elementary.
CHAINS
The CHAINS are a Montessori math material in the Children's House and Elementary classrooms. Children use them to practice their linear counting as well as learn to skip count which prepares them for memorizing the multiplication tables. Chains also indirectly prepare them to learn the concepts of squaring and cubing in Elementary.